Video Library Manager
** SUPPORT FOR THIS PRODUCT HAS ENDED **
Episodic is a video library manager geared less towards cataloging movies, and more towards managing television series episodes, cartoons, and other individually recorded entries on compilation-style VHS tapes or DVD's. When I designed Episodic I wanted a library manager that could:
Make Table Of Contents lists for tapes full of show episodes and cartoons
Give me the ability to quickly get answers to question like, "Do I have this episode?" and "Which episodes do I have right now?"
Let me quickly identify episodes I have recorded and their quality
Let me query and report on lists of episodes or cartoons featuring specific characters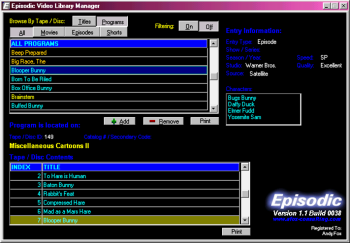 Episodic delivers on all of these features.
Episodic is a small and compact application with a small footprint (around 8MB when newly installed) and requires minimal system resources to run, making it ideal for installation on most any size computer or laptop.
Episodic System Requirements:
Microsoft Windows 95 / 98 / 2000 / XP
10 MB of free hard drive space
Desktop resolution of 800x600x256 or better
Try Episodic for FREE Today!
Episodic is free to try for an unlimited period of time. The trial, unregistered version is limited to handling a maximum of 40 tape / disc titles and/or program entries. Purchasing a software license and registering your software will remove this limitation.
Episodic
Episodic version 1.1

FREE!

Download
User's Manual
Download
Software License

$19.95

DISCONTINUED
---