We purchased some BASIC Stamp development materials during the summer of 2006, but it wasn't until 2007 that we began to take a serious interest in these little gems. Not necesserily practical for use in mass production due to their price, speed and code limitations, for hobby work for beginners just learning embedded systems, or whenever you need something with a "brain" in a small space, these guys fit the bill. Sure, there are other alternatives out there (C Stamp, BasicATOM, ZBasic's ZX-24, or the Arduino), but none have the support base, both in protoboards or user support, that the Parallax BASIC Stamp did back in the 2000's.
This page is sort-of our lab notes for many of the BASIC Stamp applications we've made. We've put it up to aid others in their designs.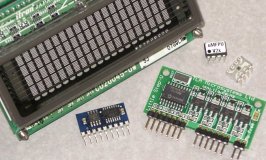 (Just a few components we bought to use with the BASIC Stamp)
Our main development platform was Parallax's BASIC Stamp Professional Development Board which insludes a lot of built-in circuitry to make it easy to do prototyping.
Note that since the writing of this page back back in 2010, many of the external links have become broken. We do not have the time to activly maintain them.
Back To Top
Interfacing to Digitalker
Back To Top
SRAM Expansion Techniques
Method #1: Directly accessing I2C SRAM Chips
Method #2: Accessing parallel-bus SRAM using three serial shift registers
Method #3: Accessing parallel-bus SRAM using three I2C I/O expanders
So, as you can see, each circuit has different advantages and disadvantages depending on the application required.
We've graphed out the speed performance for each of our solutions. We tested each circuit with a BASIC Stamp 2 and Stamp 2p24 with and without the 2p24's built-in I2C commands. The graph measures "Read/Write Operations", or the number of times we were able to write to and read from the memory chip per second. Since reading takes slightly more time than writing, memory read access would probably be about 2.5x the listed values.
And, when all is said and done, any of these circuits would probably be faster than the RAM Pack B module anyhow, since the RAM Pack B is a serial device whose fastest speed is 19.2kbaud.
SUPPLEMENT - Method #4: Accessing parallel-bus SRAM using two I2C shift registers
SUPPLEMENT - Method #5: Directly accessing low-power SPI SRAM Chips
Okay, *NOW* I think we're done with the memory circuit ideas.
Back To Top
Temperature & Light Data Logger
Back To Top
Back To Top
Back To Top
Back To Top
What about Basic Micro's BasicATOM?
Back To Top
---